Golf Tournament
---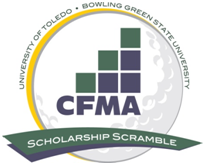 Thanks to our golfers, sponsors, committee members and many volunteers the 27th Annual CFMA Golf Scholarship Scramble made a successful return after our COVID hiccup in 2020.
As over 100 participants will recall, Monday, July 26th was a HOT and MUGGY day! The rains over the weekend kept us holding our breath till 7:30AM day of the event whether the course was going to be open or closed. Thank you Brandywine for giving us the green light! Although there were a few large puddles along the cart paths, as far as we know, no life preservers were needed to be deployed.
The Brandywine CC folks did a nice job keeping us organized and on track – not to mention well fed and hydrated! The registration this year was in the front parking lot which seemed to flow better and the AC at dinner gave us all a second wind. The food line moved right along and the steaks and chicken seemed to be a big hit.
Importantly, the outing raised over $20,450 for tuition assistance for College of Business Administrative students at UT and BGSU, our two major universities in the area. Thanks to you we are now at an estimated $550,000 level for scholarship monies raised since the mid-90s. That is a lot of sponsors, golfers and raffle ticket buyers!
Finally, a BIG thanks to the organizing committee members: Bob Bobek, GJM, Jennifer Marquardt, US Utilities Contractors, Tom Nemeth, Hylant, Blayne Robbins. Brown & Brown, Chris Kasper, Rudolph/Libbe Cos., Terence Pitre, BGSU and last but not least Diana Franz, UT. It was a great team effort and virtual planning meetings made the process more efficient for all – up to the last week when things all came together- the fun part!
We hope some of our CFMA members reading this will consider joining the Golf Committee in 2022- or another CFMA committee. It is one of the best ways to get to know your fellow members and enrich your CFMA experience. We hope to see everyone back next year!
Jim Lortie
Golf Committee Member